{PARAGRAPH}
Forex Tester using with the Trade Log
The Forex Smart Tools Trade Log is designed to work hand-in-hand with the Forex Tester to let you do higher level analysis on the trades you have taken in the Tester.
Set up an account for each project

Keypoints

From the Accounts tab of the Log click 'NEW'.
Name your account 'FT', 'Forex Tester' or 'Tester'.
Use the account number to remind you of the project name you created in the Tester.
The GMT time offset will depend on any time shift you may have used with your Tester data.
Import (or enter) just a trade or two to verify you have the time right before importing all your data.
Each unique Tester project requires a unique account in the Trade Log.

watch video (5:18)
Importing Broker Reports

Keypoints

From the Tester choose save report and click the button with three dots...
Save reports from the Tester as "CSV".
Choose "Import broker report" from the File menu.
Choose which Tester account you want the trades to go into.
Follow general instructions for importing (learn more...).

watch video (3:37)
Combine multiple Tester projects

Keypoints

Your Tester will run faster if you keep your projects limited to just a few currencies and a smaller time range per test run.
But often you'll want to analyze the results of many trades all at once for many currencies and a larger time frame.
The solution: use the Analysis tab of the Trade Log and create custom preset reports.
Because you set up each Tester project as an 'account' in the Trade Log, you can create a filter in your preset to turn all those accounts on at once.
Create 'Brokerage Groups' on the Summary tab combining the Forex Tester accounts you choose.
View the Brokerage Groups on the Summary tab and on the Progress Tracker tab.

watch video (7:39)
Bonus Idea: Import Comments

Keypoints

As you place each trade, use the comment box to identify your trade setup.
In the Trade Log, create a custom parameter of type 'text' to hold these comments.
Before you import your trades, map comments to the new parameter.
You can sort the comments and group them for comparison and analysis.
You can transfer the text comments into options to see in tables on the Summary tab.

watch video (8:41)
Related FAQ Topics
How can I import statements from Forex Tester 3 into the Trade Log?
Version 2.3.24 of the Trade Log and onwards automatically includes this patch.
For those on earlier versions, please read the following:
The layout for items exported in a statement or report changed in version 3 of the Forex Tester, relative to what was exported by version 2.
To be able to import the newer statements into the Trade Log, please download the attached file, unzip it, and then place the two dll files into your [application data]\Forex Smart Tools\Trade Log\Broker Report DLLs folder. Close and restart the Trade Log. Proceed with imports as you normally would.
Download the dll files here
If you don't know where the Application Data folder is - read on...
To find this folder, begin by navigating to your main drive (usually C:\) then Documents and Settings > then find your user name
> then Application Data....
[in Windows 7 this is called AppData].
Wait! what if you can't see a folder named Application Data?!
Then go to Tools at the top menu and choose Folder Options and temporarily turn on 'Show Hidden Files and Folders'. Ok...
now navigate to your Forex Smart Tools folder and you can find the Broker Report DLLs folder within that.
In Windows 7 you will find your Forex Trade Log folder inside AppData > Roaming.
If you are running Windows 8, see this blog for info on making AppData visible.

Why should I define separate "Projects" in the Forex Tester trades I take?
The Forex Tester lets you save your work as you go and calls each one a 'Project'.
The naming conventions are very strict and if you do not name a project correctly you do NOT get a friendly warning message. It simply doesn't save it.
So watch out when you give your project a name that you do not use special characters such as -, _, * or other non-alphabet characters.
Saving a project is a good idea for many reasons:
It saves you from losing all your work if your power goes down or you system crashes.
You can pick up where you left off with a series of trades at a later time.

('Open Project').

It lets you compare different trading approaches or trade plans with each other.
It lets you easily divide a long time period into shorter time periods to work with more easily within the Tester. For example, instead of loading up a massive amount of data be generating ticks from 2001-present time, you could save a few smaller modules of your test runs by picking shorter time periods for each project such as (1) 2001-2005 (2) 2006-2009 (3) 2010-present
Within the Trade Log you can create a Broker Group and combine these different time periods or projects to evaluate the results of the entire collection of trades all together, even though you saved each project separately.
How do I import different Tester projects into the Trade Log without mixing them up?
You can save a set of trades with a unique name in the Forex Tester.
Each set is called a "project".
Even if you close your Tester and start up again later (IF you choose to resume an ongoing test run when you click "Start") you can import the entire run into the Trade Log all at once or import just a few trades at a time and import the rest later.
As we show in the import the Forex Tester video - remember to give the Account for the the Forex Tester project a matching unique name in the Trade Log, so that it does not get merged with other the Forex Tester data from other projects.
Each unique project with the Forex Tester should be named as though it were a separate 'account'.
I am trying to import a statement from the Forex Tester into the Trade Log, but the Log won't import some new trades.
It treats them as if they have already been imported.
Perhaps you started a new test in the Tester. A fresh run. When you do that the Tester starts numbering the trades all over again from the beginning with 1.
Forex Tester trading simulator: how a trader can grow his profits [Real-life testimonial]
It uses a very simple ticket number system: 1, 2, 3, 4, etc.
If you keep going with one batch of testing on the Tester (even if you stop it and then start again and choose the 'continue testing from last date' ) then the ticket numbers advance too, but if you stop and start the Tester and define a new start date (not choosing 'continue testing from last date') then the ticket numbering starts over again at 1, 2, 3.
The Trade Log keeps track of what trades are new and which trades have already been imported based on the ticket number of each trade.
If you import a statement that also includes some trades that you already imported, those trades will appear greyed-out in the import wizard and won't be imported.
If you have the last few statements from the Tester, take a look and see if this solves the riddle - take a look at the ticket numbers and compare.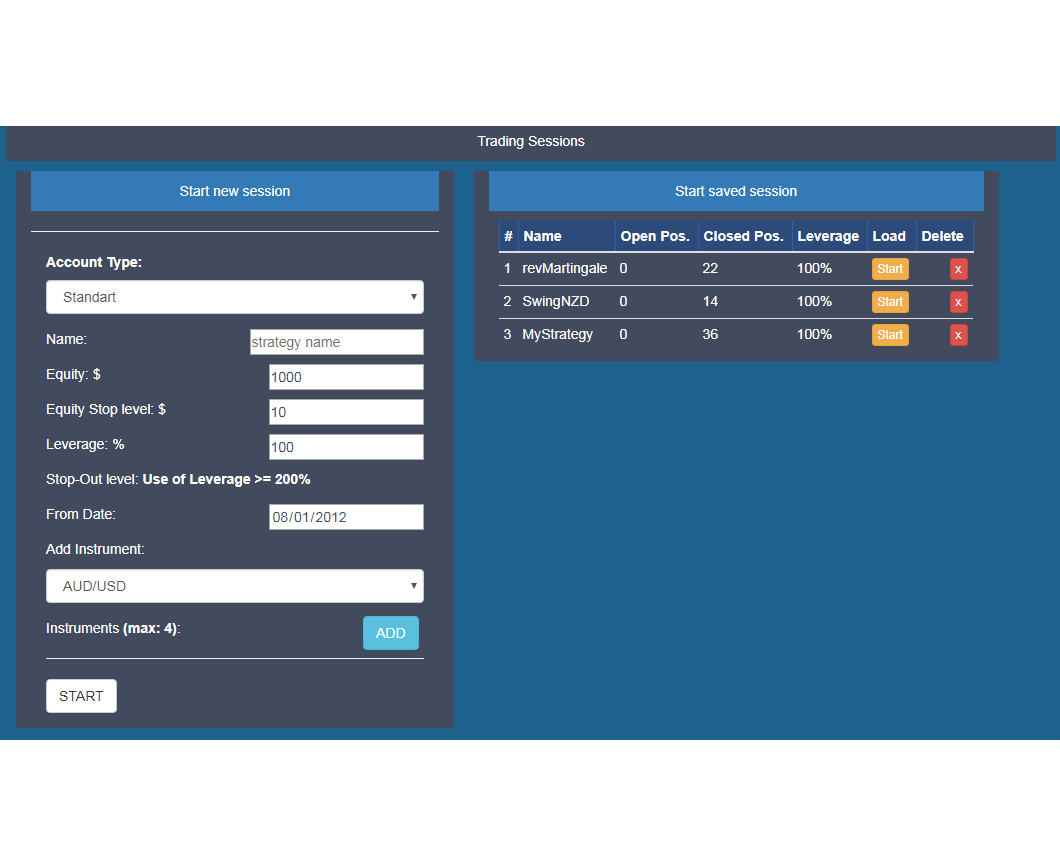 If they are the same from statement to statement, then that's why the Trade Log is not importing them as new.
If this is the case, you can start a new account in the Trade Log for this new batch of trades from the Tester. You can then combine them for analysis all together if you like (the older runs and the newer run) using filters in the analysis tab in your presets to choose all such brokers, or using manage groups on the Summary tab.
Forex Tester Overview