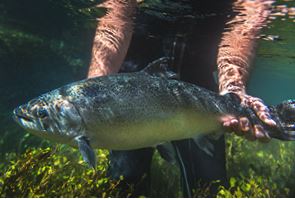 OPEN OCEAN FARMING
TO SUPPORT OUR APPLICATION TO PLACE AN OPEN OCEAN FARM IN THE COOK STRAIT, COMPLETE THE ONLINE SUBMISSION FORM HERE.
Alternatively, download, print and complete this paper submission form and post back to Marlborough District Council (MDC).
If you wish, you also have the option of writing a letter to the Resource Consents Manager at Marlborough District Council, quoting consent ref: U190438
Location of proposed 'Blue Endeavour' open ocean site
New Zealand King Salmon has lodged an application with MDC to place an open ocean farm, 7km north of Cape Lambert in the Cook Strait.
NZ King Salmon, View of seabed under salmon farms, Marlborough Sounds, New Zealand
We have named this site Blue Endeavour.
The application for a 35-year resource consent was publicly notified by MDC on Friday, October 18. There are eight weeks available for public submissions with a closing date of December 16.
For more information please click through to our Open Open Farming page here