By Daniel Klausner, Capital Markets Advisory Leader, PwC Deals
A class system for stock
Most publicly traded companies have a single-class structure that gives all shareholders equal economics and voting power.
In this scenario, one share equals one vote.
Dual-class listings boost Hong Kong IPO market - Money Talks
However, companies also have the option to use a class structure that typically contains two or more classes of shares, generally referred to as "dual class." With dual class, there is a class of common stock with more votes ("high vote") per share than the other class with one vote ("low vote"). In this scenario, the ratio most frequently used is 10 votes per high vote share to one vote per low vote share.
Follow PwC
Companies have the freedom to choose their own ratio and structure.
Dual class is on the rise, especially with tech companies
Dual class IPOs as a percentage of total IPOs have been increasing year-over-year. The first half of 2018 has already experienced more dual class listings than the entire year of 2016.
Twenty-five percent of the companies that listed on U.S. exchanges in 2017 have dual-class voting compared to just 1% in 2005.
The technology, media and telecom (TMT) sector continues to lead IPO returns in 2018 for both dual class and IPOs overall.
On average, dual class IPO deal sizes are larger than non-dual class IPO deal sizes because of the prominence of technology IPOs.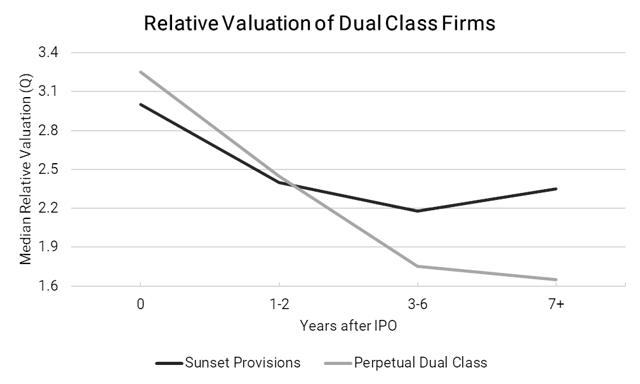 We identified 12 unicorns that went public with a dual class structure all within the last three years.
Dual class IPO returns outpace the broader IPO market
In both 2017 and year-to-date in 2018, dual class IPOs outperformed the broader IPO index.
Most dual class IPOs are TMT sector related (which have higher returns) so it is not a surprise that dual class IPOs have outperformed the broader IPO market; it's a bit of "self selection."
Source: PwC US Capital Markets Watch and Dealogic. 2017 IPO returns as of 12/29/2017.
2018 year-to-date IPO returns as of 6/20/2018.
All IPOs returns exclude SPACs.
The good and the bad of a dual class structure
The dual class structure gives companies the freedom to make their own decisions while still accessing the capital markets. It also lets innovative leaders take transformative risks that might otherwise be rejected by shareholders.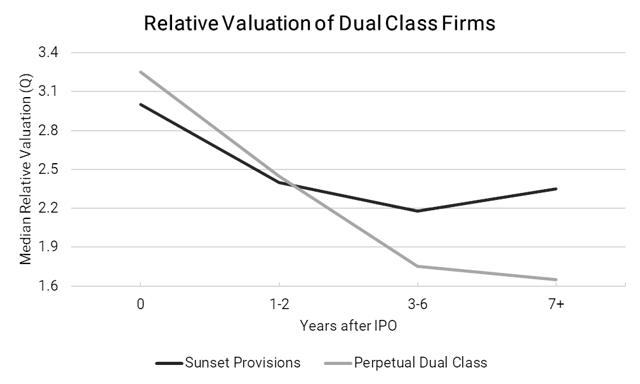 However, within this structure, investors have less mechanisms to hold management accountable for revenue, growth, returns and investments.
Index providers take a stand
Investors complained loudly about the unfairness of the dual class structure and the way it prohibits management accountability to shareholders.
Three index providers have responded by trying to limit the number of dual class IPOs on the market.
S&P Dow Jones will exclude all dual class firms.
FTSE Russell will exclude all companies whose free float constitutes less than 5% of total voting power.
MSCI will reduce the weight that dual class firms occupy in its indexes.
Looking for the middle ground
There are some definite advantages to giving the leaders of public companies more freedom to make bold decisions about the strategic direction of their organizations.
Seeing the positive returns that are out-pacing the overall market backs up that idea.
At the same time, accountability to shareholders is critically important and something worth protecting.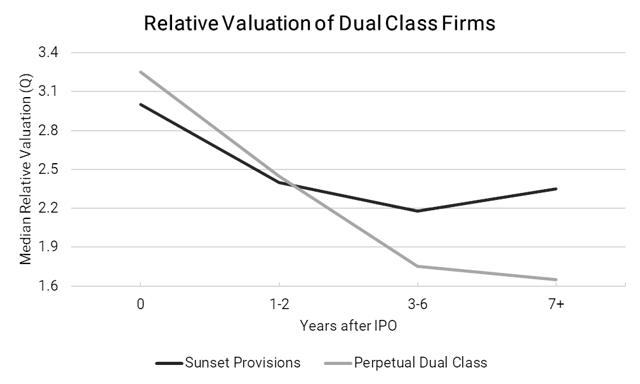 Excluding dual class companies from indices can potentially crimp demand for the company's stock from the buy-side and also exclude investors who might miss an opportunity to invest in an innovative growth company.