So you're finally going to take that long dreamed of vacation overseas. Maybe you're going to Paris for the first time.
Perhaps you've planned a trip to Spain to see the running of the bulls.
Or, if you're the more adventurous type, maybe it's a safari in Africa.
Whatever place you've decided to visit, you've obviously put a lot of thought into it.
In fact, traveling abroad takes all kinds of prep work.
You've likely checked the weather to know what clothes to pack.
You've checked with your doctor to see if you need any vaccinations.
You have your passport in order and the plane tickets are waiting for you at the gate. But have you thought about how you're going to get access to your money once you arrive?
When you're traveling overseas, it's not as simple as swiping your card at the register or hitting up the nearby ATM.
We'll let you in on the best debit cards so you can go abroad with confidence.
Should you use your debit card for international travel?
The short answer to whether or not you should use your debit card is yes, you can.
Visa, MasterCard, and other major credit card processors operate all over the world.
Your debit card will likely work in most countries you visit.
The best debit card for traveling overseas
There are, however, a couple of considerations to make before you travel to ensure your safety while getting the best deal.
When traveling abroad, it's a good idea to let your bank know where you'll be going.
It's one thing to have your card declined at the Starbucks around the corner from your house.
It's another thing to have your card declined and frozen while exploring the bazaars in Calcutta. If you tell your bank when and where you'll be traveling, their fraud alerts won't be triggered when you purchase falafel thousands of miles from home.
You should also download and activate your bank's mobile app.
Banks and credit card processors can use your phone's GPS location to determine that you're in the same location as the card that you're attempting to use.
Pick a card
Visa's Mobile Location Confirmation software, built into most banking apps, can confirm your physical location and allow a transaction to occur.
Make sure you accept all the terms and conditions of your banking app if you want to activate this feature. Again, contact your bank if you're unsure and give them a heads up that you'll be out of the country.
Are there additional fees for using your debit card internationally?
Banking fees can vary widely from institution to institution.
While your bank may make it easier and safer to make purchases when you're out of the country, they could be charging you a lot on the back end.
Have you ever withdrawn cash from an out of network ATM when you're in your hometown? A lot of banks will charge you $3 to $5 to do that even if you're just blocks from home.
Best option debit card or travel card
Those fees can increase exponentially when you leave the country.
Making an ATM withdrawal when you're out of the country is no different than when you're in the states. The fees you pay, though, will depend on the bank and you should definitely check before you go on vacation.
You can expect to pay fees that range from $2 to $5, plus an additional 2% to 3% of the total withdrawal amount.
Ready to see how your bank stacks up? Here's a list of nationwide banks that charge fairly hefty fees for international ATM use.
| Bank | Service Fee | Percentage Fee |
| --- | --- | --- |
| Bank of America | $5 | 3% |
| BB&T | $5 | 3% |
| Chase | $5 | 3% |
| CitiBank | $2 | 3% |
| Fifth Third | $5 | 3% |
| PNC Bank | $5 | 3% |
| Wells Fargo | $5 | 3% |
If you withdraw $100 from an ATM in another country and you use any of these banks you could be paying up to 8% just for the privilege of accessing your own money.
Sure there are premier accounts and preferred cards for some customers, but if you're just a regular guy or gal then you can expect to pay a lot.
Debit cards are definitely the easiest ways to access cash when you're out of the country but it is going to cost you — unless you pick the right bank.
No Foreign Transaction Fee Debit Card
While a lot of the big banks may make you pay through the nose to take out some spending cash when you're on an overseas trip, there are some others that limit their fees.
Here's a list of the top five banks you should use for your debit card if you're going to be traveling outside of the country.
Schwab Bank High Yield Investor Checking Account: No Fees
This account comes with a few requirements, but they're worth it if you travel abroad frequently.
There are no ATM charges and they'll even refund any operator fees each month.
Another bonus?
When you sign up for the account, you'll receive a Schwab Bank Visa Platinum debit card.
Travel money card, credit card, debit card or cash – which is best?
Anytime you use it, you don't have to worry about any foreign exchange transaction fees.
Plus, the account doesn't come with any type of minimum balance or opening deposit requirements.
Best Debit Card For International Travel - Charles Schwab Debit Card
There's not even a monthly service fee. Schwab reimburses you for all ATM fees incurred.
So what's the catch?
It's a pretty small one. You have to link your account to a Schwab One brokerage account.
The good news is that as long as you have both accounts, you don't need to leave any money in your brokerage account.
The pros & cons of 5 payment methods for overseas
The only downside is that there is a $1,000 minimum opening deposit. But you can always transfer that out once you have both accounts set up.
Chime Spending Account: $0 Transaction Fees
Chime is an online financial institution offering low-fee checking and saving services.
And if you travel a lot, you'll want to check them out.
There are no foreign transaction fees, and while you will be charged $2.50 for using a foreign ATM (plus operator fees), you can withdraw money fee-free at Moneypass ATMs.
Even if you can't find those ATMs when you're abroad, the Chime Spending account is easy to manage.
There isn't any monthly fee or minimum balance requirements. So if you have to pay those ATM fees when you're in another country, your Chime account helps you save in other ways.
SoFi Money: ATM fees reimbursed—worldwide
Similar to Schwab, SoFi Money reimburses you for all ATM fees incurred, no matter where in the world you use your Visa debit card.
Credit Card vs. Debit Card: Which is the Best for Travel Abroad?
SoFi offers a cash management account that earns you 1.80% APY and has zero fees.
When they say "no fees", they mean it. There are no ATM fees, no account fees, no minimum balance fees, no overdraft fees, no transaction fees, and no foreign fees.
Capital One 360: $0 Transaction Fees
The Capital One 360 checking account is easy to access for anyone.
There is no minimum opening deposit or ongoing balance requirement and no service fee. And when you travel overseas, you aren't charged any foreign transaction fees when you use your debit card.
The same holds true when you use your MasterCard debit card to withdraw money from an ATM anywhere in the world. You will, however, have to pay the ATM operator fees.
Budget Travel
However, if you're traveling in Canada, the UK, Puerto Rico, Mexico, or Australia, you can find and use a fee-free ATM branded as either Capital One Bank or Allpoint.
Low Foreign Transaction Fee Debit Cards
Ally Bank: 1% Fee
Ally Bank clocks in as the lowest fee percentage of any bank we've looked at.
Some banks on the list only charge a flat fee. But if you aren't going to be withdrawing a lot of money, then 1% is about as good as it gets.
They'll also refund you up to $10 a month in out of network ATM fees.
An Ally Interest Checking Account can also yield up to a 0.60% return. With no monthly fees or service fees, it's a good all-around checking account that you should check out no matter where you vacation.
Citizens Bank: 2% Fee
Citizens Bank is a great regional bank that services a large portion of the northeastern United States.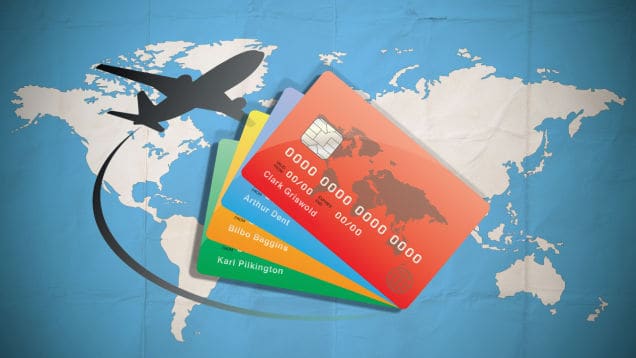 Based in Rhode Island, they service states from Vermont to Delaware.
The 2% foreign transaction fee is a bit more expensive than Ally Bank but is still worlds better than Bank of America or Chase. They do charge $9.95 for a basic checking account and you'll have to live in one of the 11 states that they serve, but it's still a better deal than most.
Other Payment Options for International Travel
Traveler's Checks
You may be thinking about other payment options besides your debit or credit card for your trip overseas.
Remember when your grandma used traveler's checks back in 1982 for her trip to London? It probably worked out great for her.
After all, traveler's checks are safe and are backed by companies like American Express. They have a network of thousands of exchange locations worldwide.
But this is 2019 and we have so many more options.
The problem with traveler's checks and other similar options is cost and convenience.
Traveler's checks can be quite expensive these days.
Save money on international transactions and foreign ATM fees.
You're charged a commission fee when you make the initial purchase and then charged a percentage on the day you make the exchange.
They're also a clunky and awkward way of carrying money. You can't just use them at the local Starbucks. You'll have to take them to an exchange to convert them to local currency.
Gift Cards and Prepaid Cards
Gift cards used to be a great way to move money across borders.
They're cheap, anonymous, and you can purchase and redeem them almost anywhere. While they had limits on the amount of cash you could load onto them, you could just buy a whole bunch of them at once.
The problem is that the anonymity and ease of use with gift cards weren't just popular with tourists and travelers.
They were also incredibly popular with drug dealers.
So in 2009, Congress got wind of this and passed the Credit Card Accountability Responsibility Disclosure (CARD) Act. Besides enacting consumer protections against hidden fees and expiration dates, it also made prepaid gift cards largely unusable outside of the United States.
You can still use a prepaid Visa or MasterCard now, they just have to be associated with a name and ID and are typically issued by a bank.
You can use these cards just like a debit or credit card to make purchases or a cash withdrawal.
A quick look at rates, however, reveals that the exchange rate for these cards is about 5.5% higher than the actual exchange rate.
A comparison at the time of writing showed an exchange rate of $1,000 USD to $769.60 Euro on Travelex.com backed by MasterCard.
The actual exchange rate of the day was $1,000 USD to $834.70 Euro. That's a pretty hefty sum and while it changes daily, most companies are very vague about what they charge.
Exchanging Currency at the Airport
The same goes for exchange rates at the airport.
You can go to a currency exchange like Travelex to swap your dollars for whatever foreign currency you'll be using for your visit. It's fast, easy and you can likely do it on your way to pick up your luggage.
The issue is that you'll now be carrying large amounts of cash in an unfamiliar place and there's still the issue of large fees.
Exchange rates at airports are the worst.
The Best Travel Credit and Debit Cards with No Foreign Transaction Fees (Updated 2019)
Service fees and very large exchange rates can leave your wallet empty.
A debit card, on the other hand, can be safely tucked away and easily replaced in case it's lost or stolen.
See also:Where to Exchange Currency While Traveling Abroad to Avoid Paying Huge Fees
Bottom Line
When you're deciding on what's the best debit card use internationally, it's not always about the money.
Talk to your bank and find out what security services and protections they offer.
Transaction fees are important considerations, but so is fraud protection and safety procedures.
The best card for you may just be the one that keeps you happy and hassle-free while visiting the port of your dreams or that mountain you've always wanted to climb.
Enjoy your vacation and stay safe!